Incognito Mode is THE solution for anonymous surfing on the web. In fact, your browsing information is automatically deleted as soon as you leave the private session.
At a time when privacy is at the heart of digital debates, it is essential to know how to navigate without leaving traces.
In this video, we will discover the extremely simple manipulation offered by Google Chrome to browse incognito.
How to navigate in incognito mode
First of all you have to open the chrome browser by double clicking on the icon.
Then in the top right corner you will find the plus button. It looks like 3 buttons on top of each other.
Click on the "Plus" button
By clicking on the "Plus" button a window opens and there you have the option to select "NewIncognito Window".
Selecting "New Incognito Window" automatically opens a new window. This new window is black with the Chrome "Incognito" icon and an information message about browsing in private mode.
From then on, you can surf the web without leaving any traces.
To make sure you are in private mode, you will find the famous "Incognito" icon in the top right corner of Chrome.
Getting out of Incognito Mode
To exit incognito mode and return to "standard" navigation, simply close the open window. You can do this either by simply closing the open tab or the private mode web page.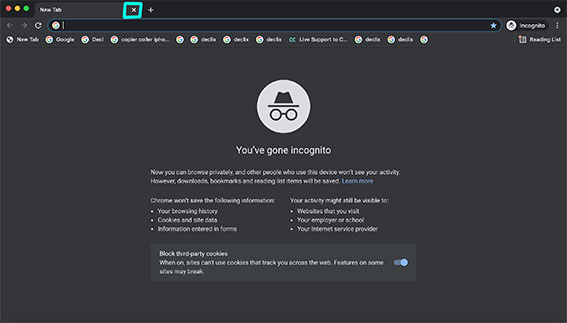 Several incognito pages open
If you open several pages in private mode, you will be able to see the number of open pages in the top right corner next to the "Incognito" icon.
To close all these pages, you just have to close them one by one. Let us specify that a web page is different from a tab. In a web page, we can have several tabs open. As you can see in the image below.
Conclusion
So why not always browse in incognito mode? Unfortunately private mode does not mean that you are invisible to advertisers. Indeed, your IP address remains visible to everyone. So your internet service provider, Google, the websites you visited can still track your browsing.
So you might ask, what's the point? Incognito mode is used to clear cookies, keep your browsing history private and open multiple sessions simultaneously.
We are here to help you with your online life. Please contact us if you have any questions  on our support line or by email.
If you wish to learn how to use private browsing in Safari, or how to manage your passwords click the links.