Are you curious to know what is our live video chat? Well it is time you discover our Declix Live Video Chat solution.
Is it normal that individuals struggle online and do not know who to turn to? E-commerce is reaching unlimited heights and yet they hardy offer any online support. The consequences are unnecessary expenditures in After Sales and missing out on numerous clients.
From a reactive after sales to a proactive customer service
Did you know that 70% of buying experiences is based on how the client feels he is being treated (McKinsey).
According to a new study by Harris Poll, 83% of consumers say having a positive experience is worth more than the product itself.
A recent research from American Express found that 86% of consumers are willing to pay more for a better experience.
These research  explain why investment in Customer Experience is a top priority for businesses in the next 5 years.
Our live video Chat solution offers a simple way to make sure that your clients are always receiving the best experience.
Declix: live video Chat solution
In just one click through the web browser your client is instantly connected to an assistant through video, chat, audio and screen sharing.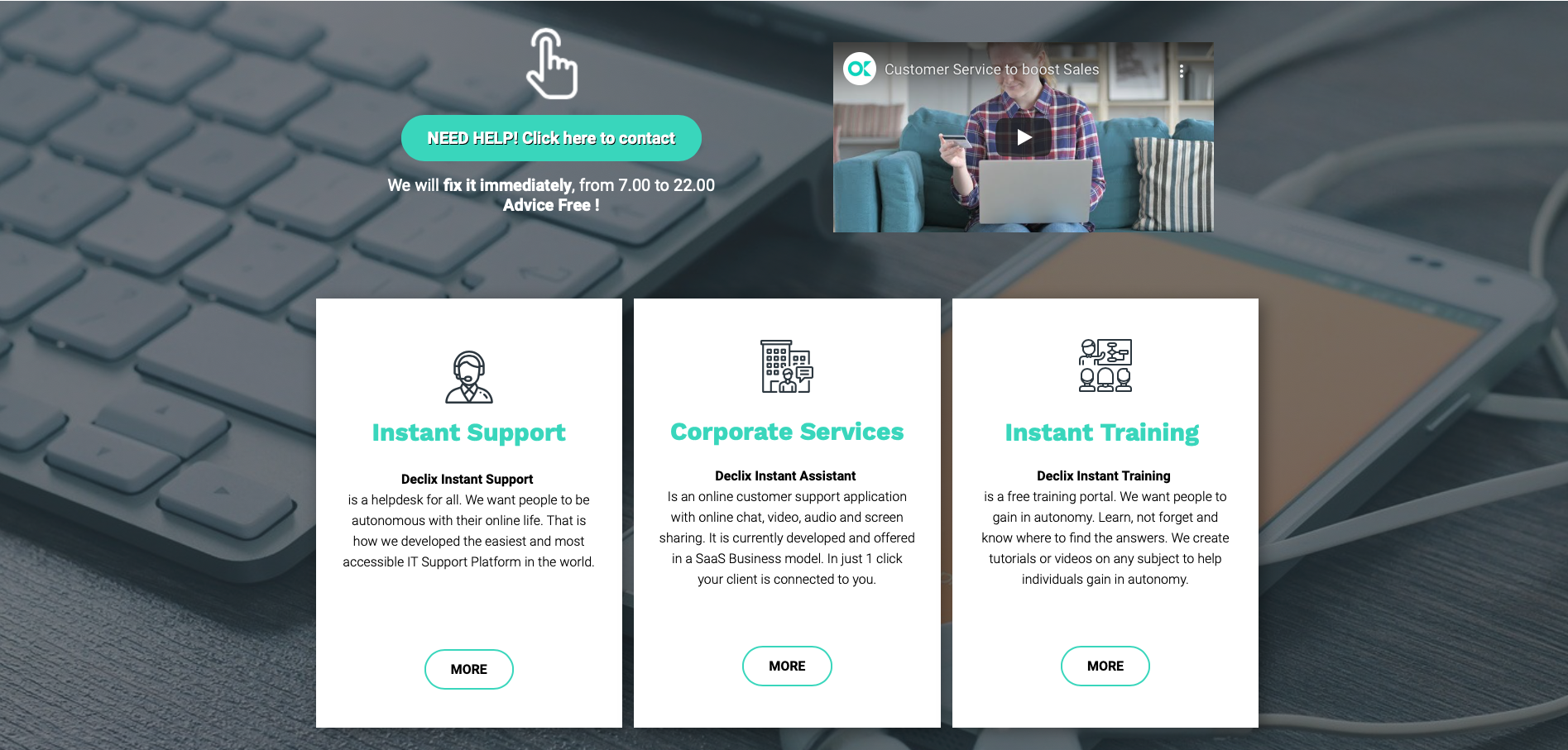 From Live Chat to Live Video
This is a totally new way of approaching the client experience. The Live Video Chat experience has numerous advantages:
Faster response to boost customer satisfaction.
Reduce After Sales requests. The proactive approach helps solve the doubt before it becomes a problem.
Retain loyal customers.
Reduces waiting time for support one of the main reason for customer churn.
Boosts customers' satisfaction rate.
Highest level for any customer service channel compared to email and phone.
The share screen option allows a better remote technical support.
Building a personal relationship with customers creates emotion.
So what is keeping you back?
The fear of having to rethink your existing customer experience? Shifting your budget from After Sales to Customer Experience? Building a team of competent assistants? Spending too much budget on staff when this can be managed by chat bots?
Online Support for Individuals
Thanks to our Online Support plateform we have a unique perspective on Customer Experience. We understand from the inside where problems lie. What comes across as simple and clear from a professional point of view can be a struggle for customers. This understanding forms the basis of our consultancy service.
It is our experience with customers that allows us to understand so well how companies need to improve their Customer Experience.