Curious about shopping at Zara online shop? In this video, we introduce you to the zara.com website. How to navigate to choose the clothes you want; how to select products, how to filter or how to add your selection to your basket.
Online shopping is very similar from one platform to another. So don't hesitate to experiment with other e-commerce platforms.
How to choose the category in Zara online shop
At the top left of the page, you will find a button with three small horizontal lines
Clicking on it opens the following menu:
So you can simply choose the category that corresponds to your purchase.
In our example, we will go to kids. This automatically opens a sub-category with girls / boys / by age / etc. This sub-category allows you to target your search.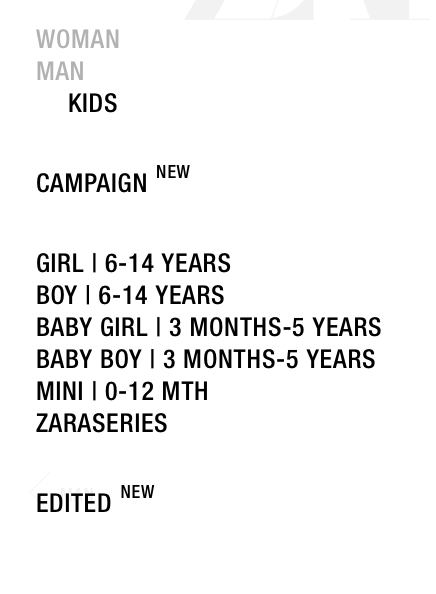 Clicking on the desired subcategory, e.g. Girls 6-14, opens a new subcategory with the different options. For example, dresses, jeans, T-Shirts, etc. Therefore, depending on your wishes you can target your purchase precisely.
In our example we will choose dresses. Therefore, just click on the subcategory "Dresses".
Select your outfit on Zara online shop
Once you have chosen a sub-category (in this case a dress), the page with the complete collection of dresses opens.
You can simply scroll through the collection by scrolling down the page with your mouse.
To make your choice, click on the desired product. This opens a new window with a detailed summary of the product.
You will still have to choose the size according to availability.
And click on the "Add to cart" button.
As a result, you will see the details of your shopping cart. You can then decide whether to continue shopping or place an order.
In this example we will continue our online shopping.
Continue shopping
To continue shopping, simply click on the three small horizontal lines at the top left of the page. Exactly as we have seen before.
But this time we will do a product search using the filter.
The Filtre
As we have seen before, you need to choose the category and sub-category you are interested in. For example, we can choose boys 6-14 years and the category Bermuda shorts.
Once this selection is made you can use the filter.
The filter option is located at the top right of the zara online shop page
The great advantage of the filter is that it allows you to narrow your search to size, colour, characteristics or price.
For example, if you particularly like a colour and want it in a particular size, then Zara.com will narrow the search to the chosen specifics.
Once the product has been selected, simply add it to the basket.
Conclusion
The zara online shop platform, like many other e-commerce platforms, is very easy to navigate.
You will find categories, sub-categories and filters that allow you to target your search precisely. Once you have selected a product, simply add it to your basket.
The Zara online shop is extremely intuitive and this video is for beginners.
In our next video, we will find out how to place the order and pay.
Indeed, there are many people who have never dared to take the plunge. We hope to encourage you to take the plunge. In general, e-commerce platforms are similar. With practice you will quickly become familiar with many platforms. Zara.com is particularly simple and offers the option of paying for goods without having to register. Indeed, Zara.com offers the option to check out as a guest.
If you want to learn how to shop on Amazon, Degitec, or buy food online click each links.